Ganz "SMART TERMINAL" is an advanced device that uses a thermal camera to measure temperature and detect (non) wearing of the protective mask with an accuracy of ≤ +/- 0.3 °C.
GANZ SMART TERMINAL Model: EN7-S02T
Intelligent system for measuring a person's temperature and detecting (not) wearing a mask on the face.
What are the benefits of using such a system?
Immediate and accurate detecting no mask on face.
Automatic saving of each measurement results with abnormal temperature, matching with
identified person in database.
Automatic control of other systems, for example opening the gate, door – only when all activated
conditions are passed (temperature is normal, mask is detected, recognized person is authorized).
Smart Terminal All-in-One is screening the face and measuring temperature, providing high
accuracy and precision, not requiring additional personnel.
Artificial intelligence algorithm used for face recognition enables to work with database containing
up to 30 000 faces stored. Speedy face recognition time is less than 200ms.
Voice message is generated automatically depending on status of the system, to instruct screened personnel.
Smart Terminal reduces the risk of Corona virus infection which is an important aspect during the Covid-19 pandemic.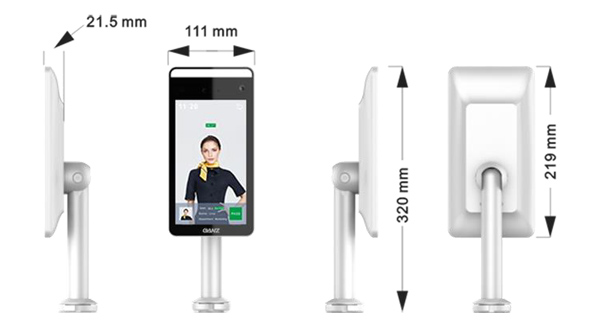 Smart Terminal enables:
fast and accurate body temperature measurement,
fever warning and alerting,
detecting of no mask on the face.
Body temperature measurement process is:
Fast and less than 2 seconds
Contactless from the distance of 0.5 – 1.0 m
Accurate tolerance ±0.3°C
Temperature is measured remotely at the distance of 0.5m up to 1.0m. The optimal distance of temperature measurement is 0.75m.
The average measurement speed is approx. 1 sec. The maximum duration of measurement process is less than 2 seconds. Smart Terminal provides high accuracy of body temperature measurement, which is ±0.3°C.
Terminal can operate in various modes:
If abnormal body temperature is detected, the terminal immediately generates voice message and triggers NO/NC relay (e.g. locks the door, turning gate, etc.).
Intelligent detection of mask on the face. If no mask on face is detected, the terminal immediately generates voice message and triggers NO/NC relay (e.g. locks the door, turning gate).
Temperature measurement and no mask detection
Both conditions are checked simultaneously. If any of them is detected (abnormal temperature or no mask), the voice message is generated, and NO/NC relay is triggered.
Smart Terminal Applications:
hospitals
hotels
office buildings
shops, convenience stores
service points
schools and kindergartens
sports, leisure, and fitness centres