In the last few months since the World Health Organization (WHO) officially declared the virus Corona pandemic (COVID-19) as a "global health emergency", smart cameras have become an indispensable defence mechanism against the virus threats.
Measures such as thermal screening (one of the key strategies used to identify infected persons) are considered as the most effective measures that are constantly emphasized and repeated by global epidemiologists and health officials: It is necessary to identify and quarantine and treat people with Corona virus (Covid -19), and to avoid or stop the global pandemic.
How can smart cameras mitigate the spread of virus Corona (COVID-19)?
Today, smart cameras with thermal sensors can be seen at the entrances to hospitals, airports, seaports, border crossings, entrances to manufacturing companies, schools, shopping centres, shops, construction sites and at all checkpoints aiming to identify one of the first symptoms of Covid-19 infection – fever.
The GANZ PANDA thermal camera is a revolutionary step in "contactless" monitoring, as it eliminates the problem of long-term and individual measurement of personal temperature, and especially the requirement of hiring a staff for reviewing and working in close contact with individuals.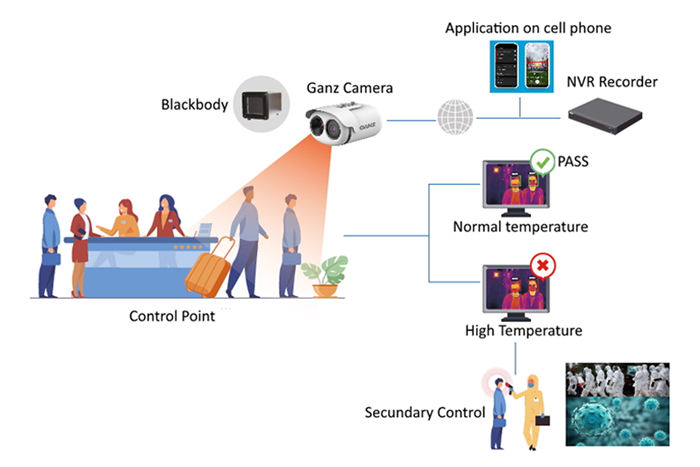 Ganz Body Temperature Measurement System is an advanced system that uses a thermal camera to simultaneously measure temperatures up to 16 people in real time with an accuracy of ≤ 0.3 ° C. Measurements are made without contact and within just a part of the second (≤ 30 ms) from an appropriate and safe distance. The usual distance of supervised persons is about 3-5 meters. The efficiency of temperature measurement has been further enhanced using a "Black body" in the temperature measurement zone.
The resolution of the thermal module of the camera is 400 × 300 pixels. The Ganz camera uses dual stream technology and captures video, thermal photography and metadata on both video streams.
The Ganz system can be used indoors and under controlled conditions, but also in various outdoor and ambient environments. The GANZ PANDA thermal camera operates in the temperature range from -10 ° C to + 50 ° C.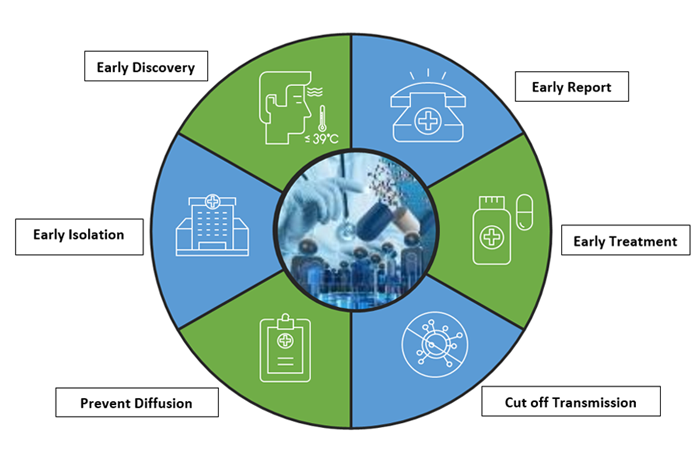 The system has been used for several years in kindergartens in Japan. Hundreds of systems have been installed in hospitals in Poland to detect possible infection with the virus.
Meditronik d.o.o. is the exclusive agent and distributor of the "Ganz Body Temperature Measurement" system for Croatia, Slovenia, Bosnia and Herzegovina, Serbia, Montenegro, Kosovo and Northern Macedonia.
GANZ Body Temperature Measurment sustav
All further information can be requested at: +385 1 6590 174 or info@meditronik.hr