BVDA International
BVDA International focuses on the development and production of products for use in forensic departments of the police, forensic institutes, government investigation agencies, forensic service providers and educational institutions.
BVDA produces a wide range of products. Some examples are readymade reagents and dyes for the visualization of (latent) marks, fingerprint powders and silicone materials for casting tool marks and lifting of powdered fingerprints. The fastest growing product areas are the GELLIFTERS, which are used for the lifting of latent marks, and the GLScan imaging system, a system that ensures the ultimate result when imaging marks on Gellifters.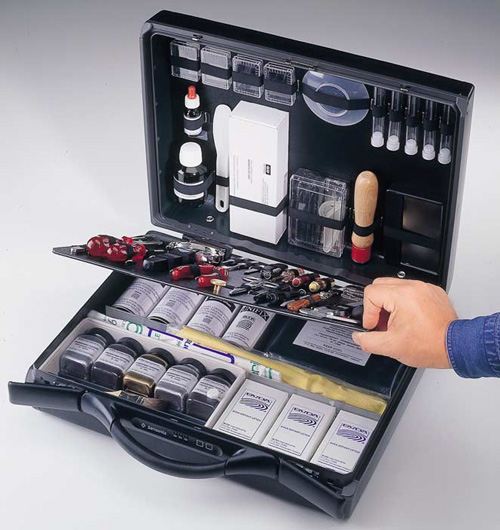 BVDA was founded in 1934 and has since been established in the Netherlands. The products are exported to a long list of countries across the globe through a network of local distributors and agents. In two countries within the EU sales offices are established, in Sweden and in Germany. The U.S. and Canadian markets are served from a sales office in Massachusetts, USA.
Gellifters
Lift your evidence to the highest level
• Risk-free lifting
• Easy to use
• One product, many applications
• No air bubbles
• Lift from virtually every surface
• Weak traces are clearly visualized
• Quality from start to finish
Unlike other lifting media, BVDA Gellifters have been especially developed for the lifting of fingerprints, shoeprints, dust marks and micro traces. The thick, non-aggressive, low-tack gelatin layer allows traces to be lifted from almost every surface, including porous material such as paper and cardboard. Lifted prints can be transported for photography or closer examination.
Chemicals
Over time our chemists have developed a range of effective reagents and other products for the development of latent prints. Examples are 1,2-Indanedion, 5-MTN and the most recent addition to the program: PECA, a polymerized cyanoacrylate that allows for 1 step fuming of fingermarks. PECA develops the marks and fluoresces under a broad band of light. Two fully equipped laboratories are available for both research and developed as for the production of reagents, dyes stains and other chemical products.
Fingerprint powders
A wide range of fingerprint powder is manufactured in house. Most powders are mixtures of carefully selected raw materials which make the powders reliable choice for the development of fingerprints. Besides the more traditional fingerprint powders like black, white and silver coloured powders, a range of magnetic and bi-chromatic powders, fluorescent powders and an anti-Stokes powder is manufactured.
Polilight
Rofin Australia has specialized in the research and development of alternate light sources since 1988. During this time its innovative products, which have been designed in close association with leading forensic scientists, have set the standard by which others are judged. Polilight light sources are recognized for their excellence and have been adopted by leading police forces and investigative agencies worldwide.
Rofin takes great care to understand the needs of modern forensic scientists and its products form a comprehensive and integrated range of light source suited for use at the scene-of-crime and in the laboratory; the range includes the Polilight PL400, PL500 and PL500SC, Poliview, and Polilight Flare Plus.